Live Streaming Services for Weddings
Inkredible Sounds Live Streaming and Virtual Event services provides custom audio and visual experiences, enhancing and transforming live events to virtual events. This is the perfect option for Intimate Micro weddings and for your guest that may not be able to attend your physical wedding. Your guests can interact with one another during the live stream chat. Couples are also invited to the live stream after the ceremony to read comments and share a few words to your virtual guest.
Ceremony Package 
1 Hour of Service
1 or 2 HD Cameras
Ceremony Music
Lapel Mic for Officiant
Unlimited Guest
Guest can watch on any device
Guest can interact via chat
Live Stream Video Keepsake Delivered via Download Link
FAQ:
What if my venue do not have reliable wifi or internet access? We recognize every venue and chapel is set up differently and have different wifi strengths or limited access to wifi. We have options available to work around your venue not having the proper wifi signal needed.
Will the our online guest be able to here our songs as we walk down the aisle? Yes! Our Team will provide the ceremony music for your physical guest as well as the same audio for your virtual guest.
What if me and my fiancé has soft voices will our vowels pick up through the officiant mic? Most likely not! However, we are able to provide an additional wireless handheld mic as a "Add On" that way both your and your fiancé as well as the officiant has great audio for your virtual guest.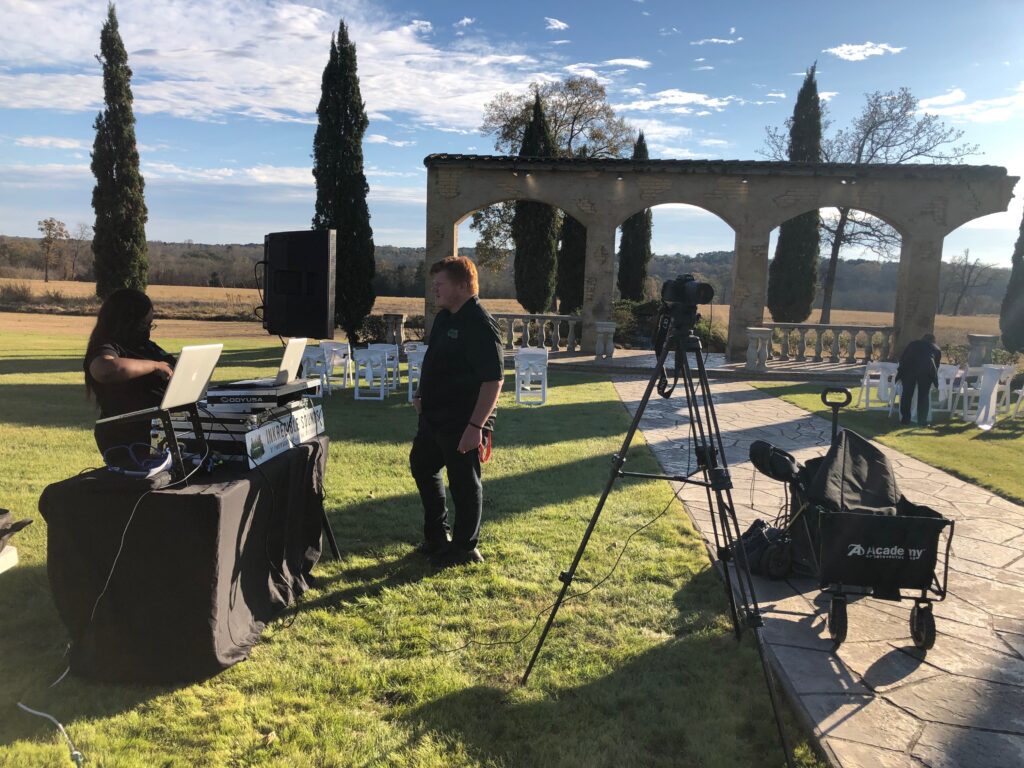 Photo of Inkredible Sounds Live Streaming Team setting up for a intimate wedding.
Corporate DJ | Holiday Party Photo Booth | Company Entertainment | Corporate DJ in Dallas | Company DJ in Tyler | Holiday DJ in Waco | Affordable Corporate DJ | Company DJ in Oklahoma | corporate DJ in Austin | Company DJ in Frisco | College DJ in Mckinney | Fun holiday DJ | Karaoke DJ in North Dallas |North Dallas Professional DJ | DFW Corporate DJ | Affordable DJ in Frisco, Tx | Disc Jockey in Frisco | Frisco Best DJ | North Dallas DJ for holiday parties and company parties